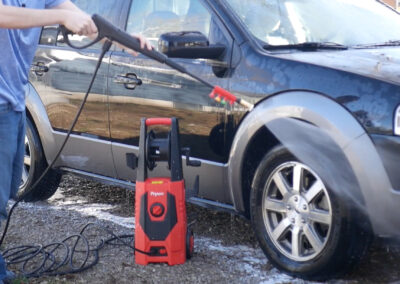 There are so many pressure washers to choose from that it can become confusing to decide which one to get.
I've taken the time to round up the best 3000 PSI pressure washers so that you only need to choose the one best suited to your budget.
I've also included a FAQ section at the bottom of the article that will help you make the right choice.
Best 3000 PSI Electric Pressure Washers Round-Up
---
A detailed review of the best 3000 PSI electric pressure washers on the market
Here's a break down of the three best 3000 PSI electric pressure washers I could find, based on my testing, and customer reviews from forums, Facebook groups and Amazon's reviews… (I know, I know, one of them isn't actually 3000 PSI, but I included it anyway because I think the portability was worth it)
The Powerhouse International electric pressure washer
Voted as the best overall pressure washer, the Powerhouse International Electric pressure washer is the one you go for.
This pressure washer comes standard with all the possible attachments you could need to make sure that your yard is squeaky clean. The attachments include a flexible hose, soap foam sprayer, turbo nozzles, brushes, and more.
It comes with a quick connect nozzle attachment system so you never have to spend an excessive amount of time trying to attach a fiddly nozzle to the machine. They've taken all of the hard work off your hands with their unique design and machinery.
The 3000 PSI machine is one of the newer models in the Powerhouse range, and the brand has made sure to upgrade as much as possible. It comes with an ultra-powerful 2000w motor which means you'll be able to clean anything within a matter of seconds. The washer is rated at 2.2 GPM which isn't the highest but more than enough for most home use.
As with most other machines, the Powerhouse International electric pressure washer is housed in a strong steel frame and mounted onto 4 wheels to make moving this machine around a piece of cake.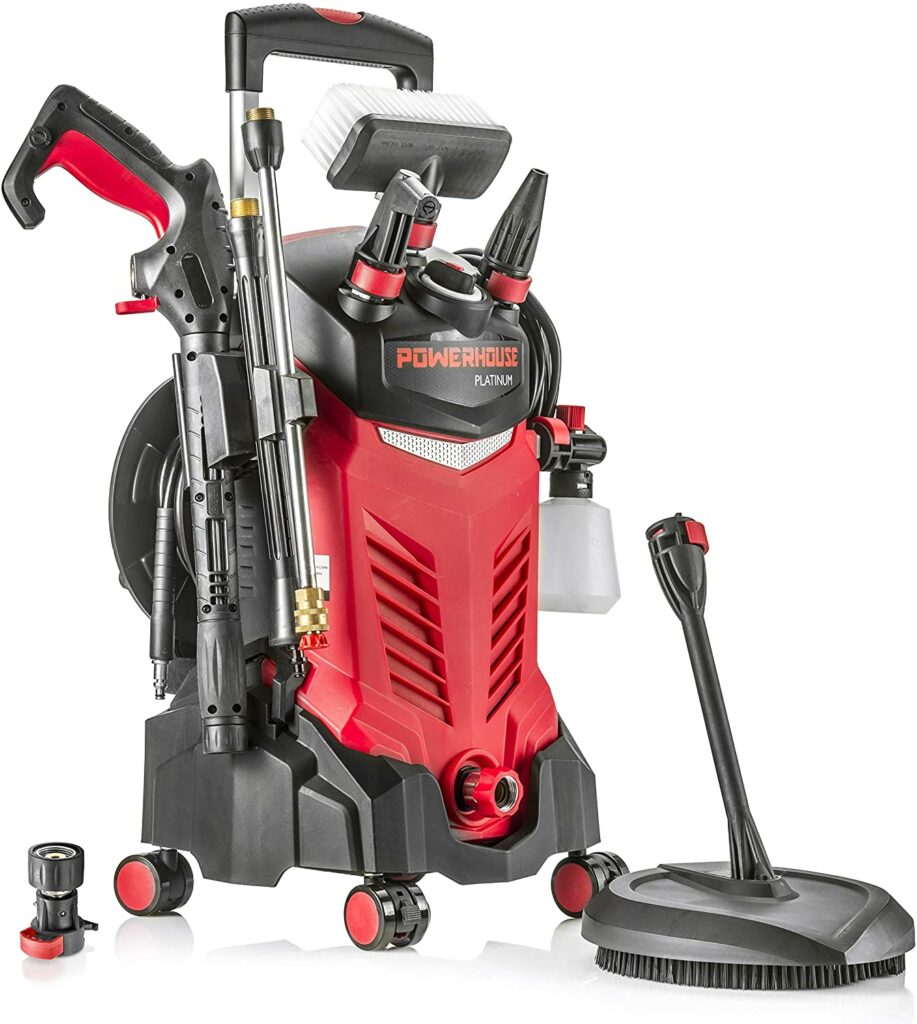 Pros:
2000W motor is the highest on our list
2.2 GPM is the highest on our list
6m (20 ft) hose length is a great length
5m (16 ft) power cord length included is enough that it doesn't get in the way
Cons:
I'm still waiting to hear back from people with regards to any notable cons; if you have experience with this machine, leave a comment below!
---
The PRYMAX 3000 PSI electric pressure washer
The PRYMAX electric pressure washer packs a mean punch, given it's extremely compact size. I had to include this one on this round-up because it's perfect for the homeowner that does not have the storage capacity that a more traditional looking pressure washer requires.
The 20 foot (6m) hose is easily stored away on the on-board hose reel that will keep the excess hose out of your way as you clean. The mammoth length of the hose will also make it easy for you to reach those difficult spots that always seem to get neglected.
Unlike the other pressure washers on this list, the PRYMAX is a plastic unit which is why it's more lightweight than the other models. This does mean that you might have to be a bit more gentle when carting it around, as there's absolutely nothing worse than a cracked plastic shell.
Another unique feature of this machine is that it heats the water to 104°F (40°C) to help you get rid of even the most stubborn greasy spots without having to go in and scrub the area down first.
The PRYMAX has what they call a 'Total Stop System' that will shut down the motor when the trigger of the pressure washer is not engaged and will help in prolonging the life of the pump.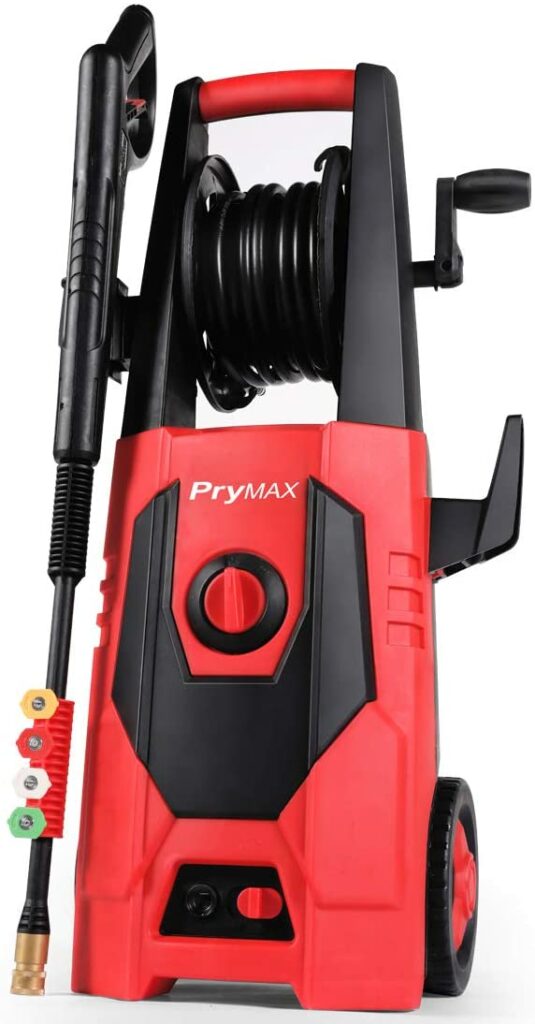 Pros:
1.8 GPM
1800W motor is plenty for home use
The design is compact and lightweight
Cons:
Housed in a plastic shell that feels a little flimsy
It is louder than other models on our list
---
The AR Blue Clean AR2N1 electric pressure washer
Although this washer only pushes 2050 PSI, it's a stand out pressure washer, and I thought it deserved a mention.
Its unique build allows for it to be mounted onto a trolley so that you can move it around with you while cleaning, or it can be held in your hand. This feature means that it's super easy to transport this pressure washer without breaking a sweat. It has a super low centre of gravity, so the machine is ultra-stable regardless of how you're using it; I tested it for how easy it was to tip over and it's pretty stable.
It comes out of the box with a stainless steel lance/wand, which I assume will help give it a long life in your garage (keep in mind, I typically buy these washers, test them out, then sell them shortly after on Facebook Marketplace/eBay/Craigslist. AR Blue Clean has also upgraded the lance to allow for quick-attach nozzles, which is significantly better than the plastic all-in-one hose the previous model came with. I basically never recommend the all-in-one style anymore, since the quick attach nozzles are so much handier.
Another unique feature of the AR Blue Clean AR2N1 is that the hose has its own side holster. The previous model and most other models often come with a wrap-around handle which could leave your hose with many little kinks that shorten the lifespan of your hose. This problem is easily avoided thanks to the forward-thinking of the designers!
I feel it's my duty to point out that this model is best suited to jobs around the house, because of its lower PSI, smaller GPM, and voltage. If you're looking for something more powerful, have a look at one of the other suggested models that might be better suited for your needs.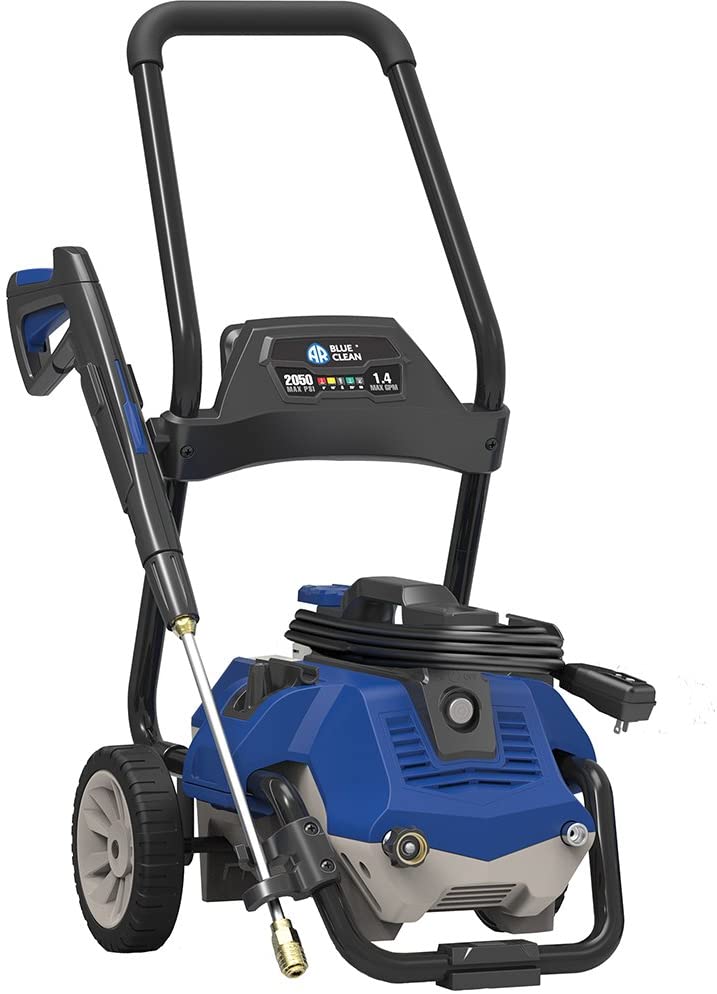 Pros:
The ability to mount/unmount it from its cart is a nice feature
The quick attach nozzles are a nice upgrade from the previous model
Cons:
Only 2050 PSI which is lower than the others on our list
The 125V motor is going to feel underwhelming if you're a power user who needs the upper end of the 2050 PSI
---
Frequently asked questions about buying your first pressure washer
Should I rent or buy a pressure washer?
This is entirely dependent on you. Many people start by renting a machine for seasonal cleaning around the house, and find that the once-off small rental price is better for their pocket.
I would strongly recommend that you make the commitment and purchase one for yourself because I can guarantee that once you use a pressure washer, you'll be finding a myriad of items to clean because it is so satisfying!
What should I look for when trying to find a pressure washer to buy?
Many factors determine which washer will be the best for you. You need to be able to know exactly what you're going to use the machine for.
If you're looking for something to use once or twice a week, look into getting something smaller with under 3000 PSI to make sure you don't accidentally strip the paint off!
Should I choose a gas or electric motor?
Gas motors are typically used by industry professionals because they are hardcore cleaning machines that don't play around when it comes to removing grime.
For those looking to use a pressure washer for around the home tasks, an electric pressure washer is the way to go.
They're usually more lightweight and don't take up as much storage space as a gas motor pressure washer will.