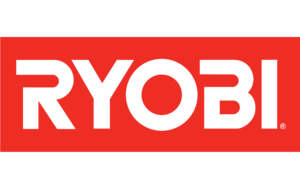 If you're looking to buy one of the Ryobi pressure washers, today's post will interest you. I went through the various models, looking for the good, the bad, and the ugly; checked pressure washer forums and Facebook groups, looked at Amazon's reviews, and found out where they're great and where they're falling short.
Long story short: You can't go wrong with a Ryobi pressure washer, but with so many options it can be confusing trying to figure out which is the right one for you, so this review is meant to pare down your options and put all the information in one place. If something's missing, go ahead and leave a comment at the bottom, and I'll swing back and edit the post to include it.
Bottom line is Ryobi's a trusted and well-known brand that's been in business for decades, with a wide variety of pressure washers and options to suit any job – and any price range – so I put them all together and found the best Ryobi models to compare below.
Ryobi Pressure Washers: An overview of the brand
Ryobi has been around since the 1940s, and while it is currently lumped into the same category as power tool manufacturing giants like AEG and Hoover vacuums, the brand also produces great quality & affordable pressure washers with professional features.
Ryobi pressure washers appeal to not only homeowners and DIY enthusiasts but are often used by professionals for small or medium-sized cleaning projects.
Their pressure washers are well made and have some of the best value for money on today's market; if you're a bang-for-buck kind of shopper, they're worth a look. Most users of Ryobi power washers say that the brand is long-lasting and worth every penny.
Another great feature when you choose a Ryobi pressure washer is that you can be rest assured your warranty is safe with them.
Are Ryobi pressure washers quality machines?
Ryobi is an extremely versatile pressure washer brand and has a large number of excellent power washers that can deliver powerful pressure on either electricity, cordless, or gas. Their electric models are super impressive and outperform many pressure washers on the market.
Users are spoilt for choice in picking the right pressure washer for the job. They have focused on providing homeowners with options to suit every need and have been designed with safety in mind.
Their pressure washers are durable and easy to store away in any small or available space, and their spare parts are readily available.
Ryobi's online customer support is friendly, efficient, and fast. The RYOBI Nation community and RYOBI You-Tube channel provide a wealth of information for any Ryobi brand tool you may need to find out more about.
They also offer access to informative videos and how-to guides, along with clever and innovative DIY hacks.
The best part about buying a Ryobi Pressure Washer is the three-year warranty they offer on their electric power washers and a two-year warranty on their gas-powered washers.
How much does a Ryobi Pressure Washer Cost?
Ryobi power pressure washers come in at every price point, so you can pick up a great quality Ryobi electric or gas pressure washer to suit your budget.
You're also spoiled for choice as they offer a variety of electric pressure washers and gas pressure washers.
What's to like about their electric pressure washers?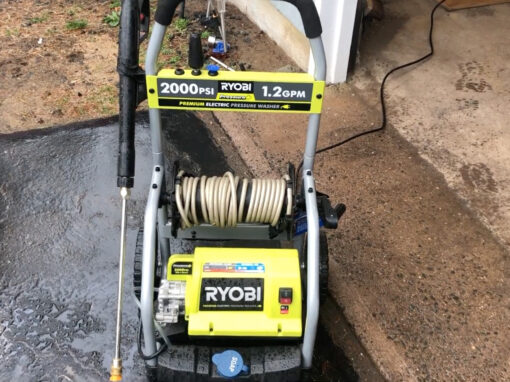 For homeowner convenience, ease of use, and packed with power, the electric-powered cleaner would be the best bet.
While they may not be as powerful when compared to gas washers, electric washers are sufficient, and great for jobs around the home.
At just the flip of a switch, they are also much easier to use, and hardly need any sort of extra maintenance. They are also lightweight, and easily stowed away for later use.
The price range for a quality Ryobi electric pressure washer is in the $150 to $250 range.
What's to like about their gas-powered washers?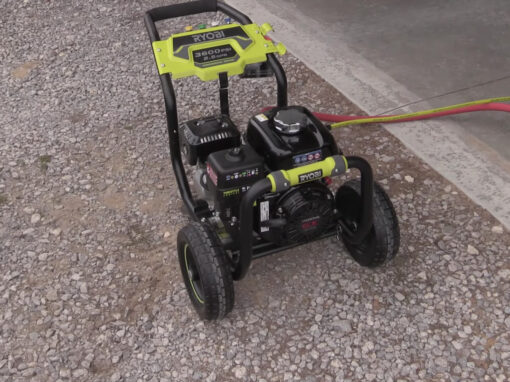 While gas-powered pressure washers need to be regularly oiled and fueled up to operate, often requiring spark-plug and air-filter changes, their power and mobility are second to none.
They are not constrained by cables and cords, so they can clean anything, anywhere.
Because they pack a punch, they can also clean almost twice as fast as electric pressure cleaners. Large jobs such as cleaning driveways or decks are an easy feat for a gas-powered washer. Because of this power, gas models usually come in between $300 and $500 a piece.
The best way to decide which pressure washer is the right one to buy, consider those electric ones are good for car and porch washing, while gas-powered cleaners are excellent for harder jobs like stripping paint and washing of large areas, and surfaces which aren't smooth and are stubborn to clean.
A variety of accessories available for your pressure washer
Adding accessories to your Ryobi pressure washer will enhance the performance and longevity of your pressure cleaning machine.
From various surface cleaners, foam blasters and wands, to roller booms and turbo nozzles that can enhance the power of water jet sprays up to 4000 psi.
My Favorite 4 Ryobi Pressure Washers Compared
---
Detailed Ryobi Pressure Washer Reviews
Here's a break down of the 4 best Ryobi washers on the market.
Ryobi 1,600 PSI Electric Pressure Washer (RY141612)
Quick Specs:
The Rundown: For ease of use and thorough cleaning of all your porch furniture, barbecue grills,
cars, camper vans, and the like, this model is the perfect choice for you.
With a 1.2-gallon flow rate per minute, you will get tough grit removed in no time. I love that it has a 20-inch hose and a quick connect spray wand so that I have enough slack to move around the space and get into tough to reach areas.
It's compact and lightweight, giving you the freedom to move around as you need. Plus, for deeper cleaning, you can even add detergent.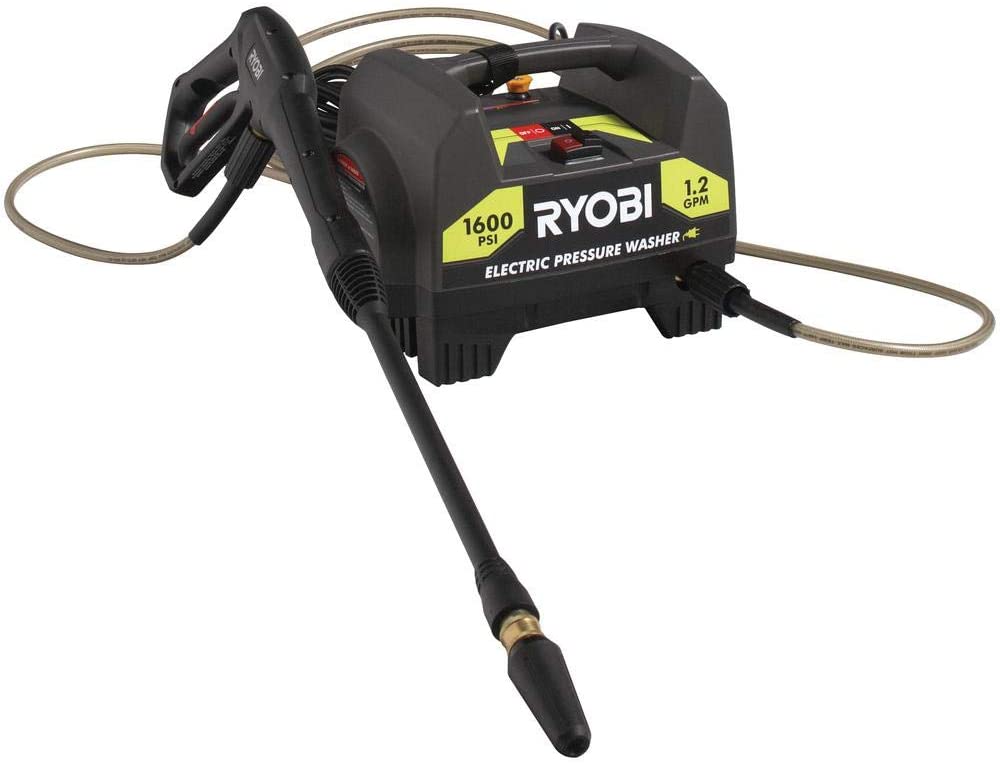 See this machine in action:
---
RYOBI 2,000-PSI Electric Pressure Washer (RY141900)
Quick Specs:
The Rundown: Compact, lightweight, easy to use, and to move around your house and garden
comfortably, this pressure cleaner has a powerful electric motor delivering a force of
2000 PSI for a quick, thorough clean.
Use it to clean your windows, patio, deck, and lawn furniture speedily and efficiently with a 25m hose length to reach anything and everything.
Because of its well-designed frame, it can be easily transported and stored anywhere. It also has the added benefit of a detergent tank attached so you won't need to haul a bucket of soap around with you while you clean!.
All three nozzles are stored on the unit for your convenience. An extra special feature is the Turbo Nozzle, which gives you up to 50% more cleaning power.
---
Ryobi 2300 PSI Electric Pressure Washer (RY142300)
Quick Specs:
The Rundown: Probably one of the most popular and most reviewed pressure cleaner models, this 13-amp Induction motor with Axial Cam pump is highly efficient and speedily cleans
all around the home and garden.
Probably best suited for home use:
Windows
Wooden and plastic decks
Driveways
Concrete patios
Garden furniture
The Turbo Nozzle included allows for double the cleaning speed and with its 3-year limited warranty is known to last for many years in homes around the world.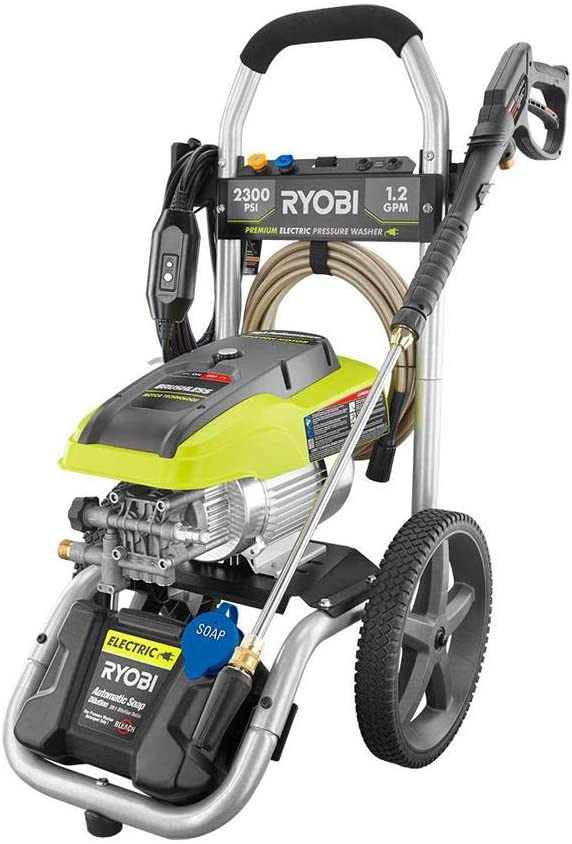 ---
Ryobi Honda GX200 Gas Pressure Washer (RY803600)
Quick Specs:
The Rundown: This premium choice pressure cleaner offers high-quality components and excellent, thorough cleaning. It is one of the best selling pressure washer models in the premium range and is ideal for larger cleaning products.
Its powerful Honda GX200 engine delivers an impressive 3600 PSI, and 2.5 GPM
pressurizer to produce extremely high-powered jets of water to efficiently clean any
outdoor surface.
It is powerful enough for both commercial and professional cleaning use, as well as domestic cleaning as its long hose can reach far from the home into difficult, rough areas as well. Versatile, efficient, and lasts for years.
When you've decided on what kind of cleaning power and reach you need, along with the scale of work you want your power washer to perform, choose one that will also suit your pocket.
Ryobi has a unit at every price point, this makes choosing the right one for your needs, very easy.