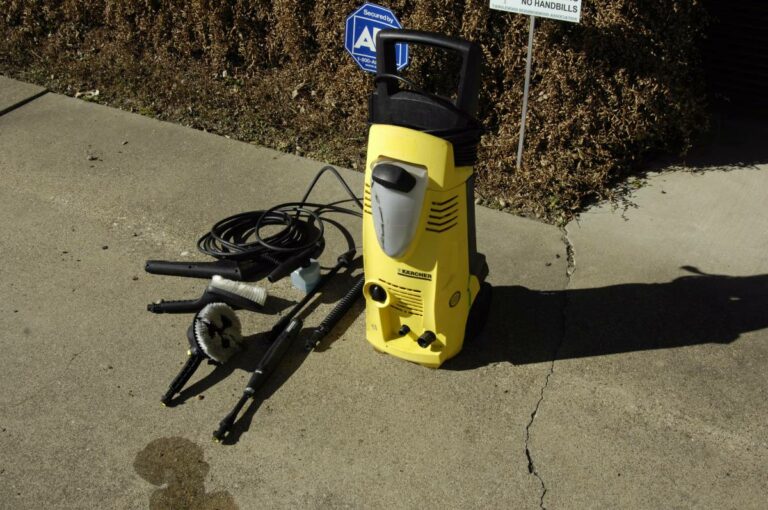 The Karcher K1700 is one of my favorite pressure washers to recommend to people for home use: it's easy to use, lightweight, and made by a reputable brand.
When writing this Karcher K1700 review, I looked at Amazon reviews, saw what problems other people were having, and tried to include them in this review. In a way, I'm speaking about problems I didn't have, but I wanted my Karcher K1700 review to cover everything, and make it a great resource for people when they're researching which pressure washer to buy. I've included links to Amazon where relevant to check the latest price. They give me a buck or two if you end up buying the pressure washer, but I'd have linked to them either way. If you found the article helpful, that click helps a lot!
Without further ado – let's jump into my Karcher K1700 review!
My Karcher K1700 Pressure Washer Review
Overall, the Karcher K1700 is great for residential use and even in some cases, commercial use.
I'm a big fan of its three nozzle system, which includes a turbo attachment for intense cleaning projects and a detergent nozzle, which is great for cleaning a car.
In this review, I'm looking at it compared to other pressure washer on the market and am breaking down what I like and what I don't like about it. It's worth mentioning that Karcher (or Kaercher, depending on where you're from) is company that's been around for a long time. They're a German founded in 1935 and specializing in pressure washers, so if you're looking for a company that knows high powered pressure washers, look no further.
So first thing… setting the Karcher K1700 up was fairly quick and easy; this isn't a commercial unit that you need to piece together everything.
It runs on electricity and not gas, which makes this a quiet machine. So no complaints from your neighbors about the noise.
Three nozzles come standard with the Karcher cube power washer. These include the turbo nozzle, the all-purpose nozzle, and the detergent nozzle. The turbo nozzle, as the name suggests, is perfect for more intense cleaning projects. For example, in testing, I was able to get really stubborn grit and grime out of our paving.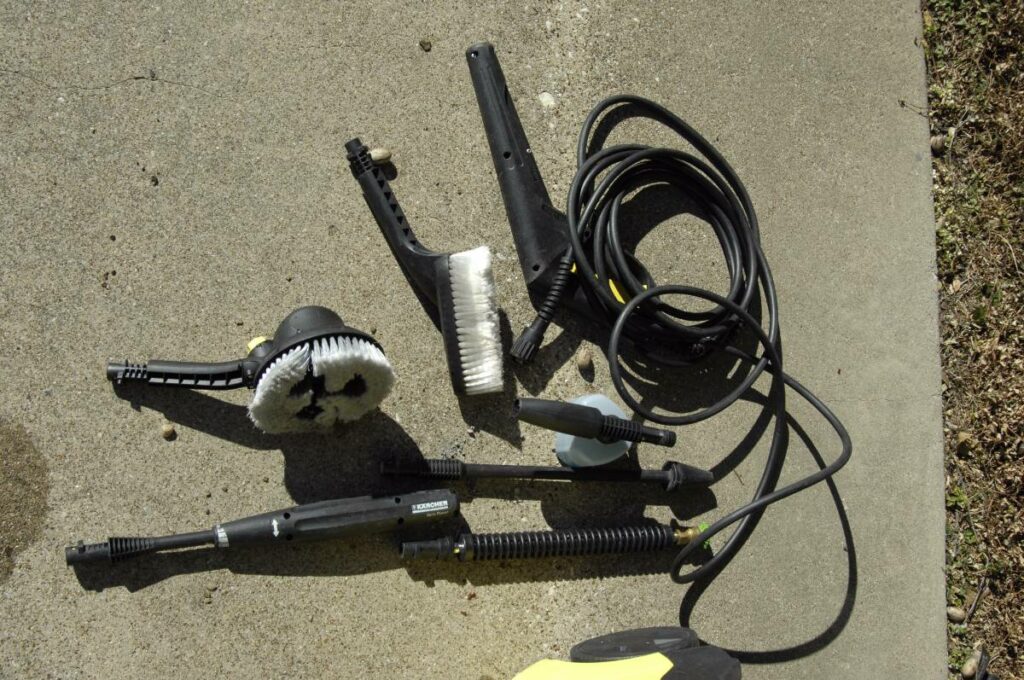 The all-purpose nozzle is effective on less demanding cleaning jobs, like cleaning gutters and those tough to reach areas around window-frames. The detergent nozzle is our favorite as it makes cleaning areas like one's patio or indeed one's car super quick and effective.
One particularly great feature is the removable 0.5-gallon tank that can be used for detergent or soap. A few other models don't come with detergent tanks at all, so this feature makes the K1700 more versatile than some of the other models on the market.
Using this machine is very simple. The design is durable and moves easily, thanks to the sturdy frame and large wheels. Weighing less than twenty pounds, it's not a heavy machine, but it's not by any means a flimsy piece of equipment.
A feature that I really like is the 25-foot hose. Being able to move between large areas without having to move the entire machine makes getting the job done so much easier and quicker. Additionally, there's a handy attachment that allows you to roll and store the hose without it getting tangled.
The Karcher K1700 stores well too. The frame, though made to be heavy-duty, isn't too large, coming in at 33 x 16.5 x 17.25 inches and weighing less than 20 pounds. When I tested it, I found it stored away easily in a small shed or a spot in your garage.
---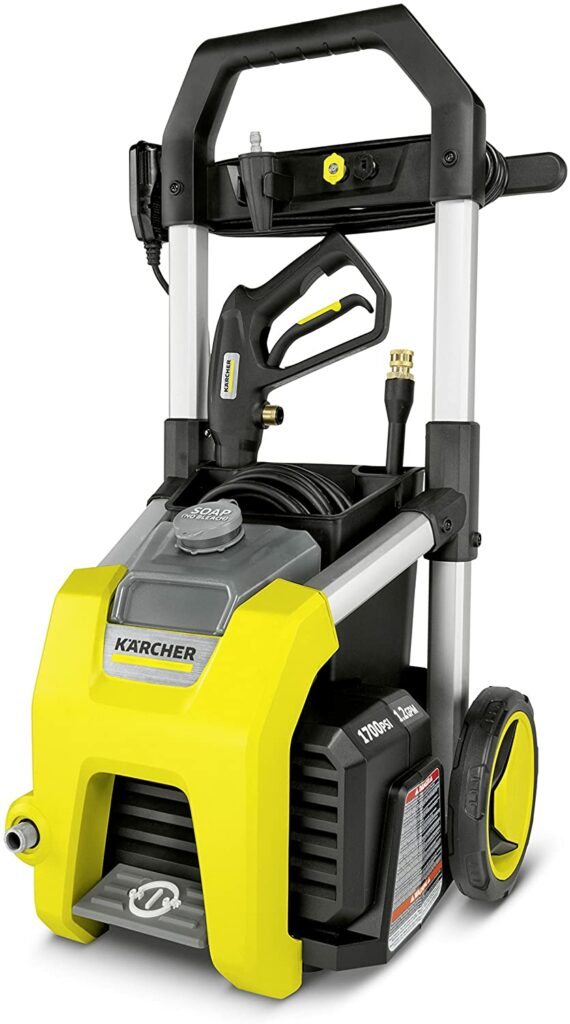 Things I liked about the K1700
The price point of this model is great as it's one of the more affordable products on the market.
It weighs less than other models, so it's better suited for residential use.
There's a three-year warranty, so you'll be able to contact support for any issues.
It's powered by electricity, not fuel, making it quieter for residential use.
This model is super easy to assemble and use.
It comes with multiple nozzles, including a detergent feature which is great for cleaning your car.
You're buying a pressure washer from an well-established brand
The fact they have multiple models: the K1700 and the K1700 Cube tells me that it's one of their best selling models
---
Detailed Analysis of the Karcher K1700 Cube
Karcher K1700 Cube Review: What I didn't like about this pressure washer
Although I didn't find this problem I've heard that there have been instances where the hose leaks.
Doesn't produce as much pressure as some of the other higher-end Karcher models.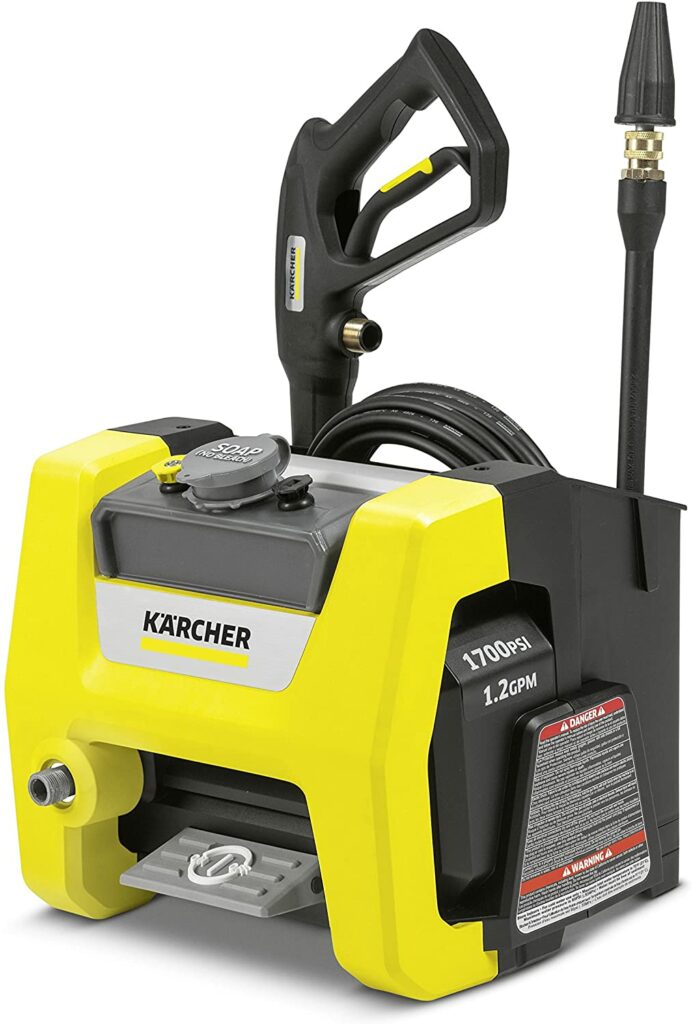 Karcher K1700 Cube Review: What I liked about this pressure washer
In addition to being a great all-round pressure washer, the Karcher K1700 is made for anyone with little or no experience in using these machines. Compared to some of the other Karcher models, setting it up is simple and takes less than five minutes. You won't need any fancy tools to assemble this machine and the initial assembly will only take about fifteen minutes.
The foot pedal on/off switch makes powering the machine simple and efficient. So while you're trying to move between areas, you won't have to bend down every time you want to turn it on or off.
So when compared to some of the larger pressure washer models, the K1700 is the perfect choice for residential use.
Durability: What others have said about the Karcher 1700, and warranty details
The Karcher K1700 cube pressure washer is a durable piece of equipment. There are a variety of high-pressure washers on the market for really heavy-duty cleaning projects, but this model will do the job, and it will last you a long time.
There is a three-year warranty that comes standard with the product and covers you on all solid parts, as well as the motor. All accessories are covered for 90 days after purchase.
Power & Output: Electric pressure washers are quieter and great for all seasons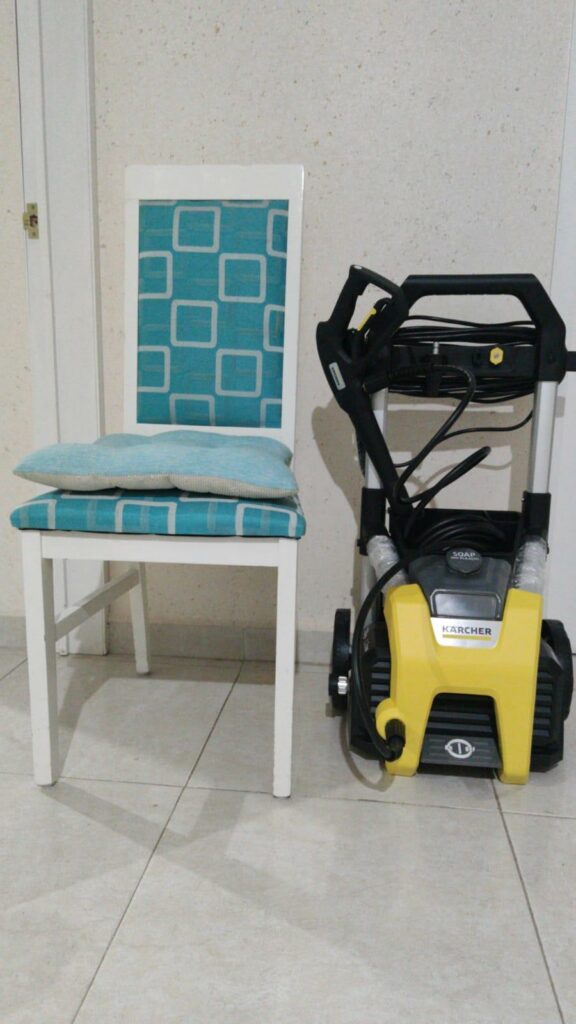 The fact that this is powered by electricity, not fuel, not only makes this model quiet, but this makes it perfect for use during the winter months.
Unlike some of the gas-powered models, you'll never have to worry about gas freezing up or getting stuck in the system. Simply plug it into any 120V household outlet and you're good to go.
As the name suggests, the output is 1,700 pounds of water pressure per square inch. It's not the most powerful pressure washer on the market, but the K1700 is perfectly suited for cleaning projects around the home. It's great for cleaning the car, the roof, a patio, or a driveway.
If you're worried about how much electrical power the K1700 uses, there's no need. Many other electric-powered tools drain electricity, but you won't have this problem with this model. It can also be plugged into most standard power sockets.
Storage: Being a compact pressure washer makes the K1700 Cube easy to store in your garage
Thanks to its compact size, I found that it's fairly easy to store between uses. It will fit easily in a shed or small storage space.
One really helpful feature is the storage compartment for all of the attachments. Unless kept in a box or drawer, losing attachments and spare parts is inevitable, so this compartment is great for keeping all of your pieces together.
The hose fits on a reel attached to the machine, so it can be kept tidy and untangled. These great storage features make using this machine a breeze.
Price: The K1700 is cheaper than other pressure washers with similar PSI ratings
You can purchase the Karcher K1700 for under $200, saving you a lot of money in the long run when compared to the other pressure washers on the market, and ends up being an investment that's worth every penny.
Many commercial pressure washers can cost anything upward of $500. Alternatively, you could call a professional company to do your big cleaning projects around the home. That would also cost anything above $200.
As you can expect, this model won't be as high-pressure as some of the bigger and pricier models, but it will definitely get the job done.