In this article, I have reviewed a number of Blue Clean's electric pressure washers.
I looked at each pressure washer and compared quality, price, the range of options available, and how easy they were to use. Each pressure washer had it's pros and cons but let's take a look at what I found when looking for the best pressure washers from AR Blue Clean.
Who is AR Blue Clean? An Overall Assessment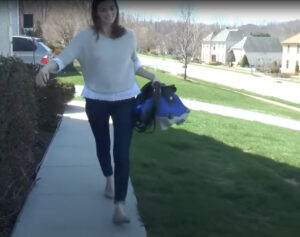 AR Blue Clean is a sub-brand of AR (Annovi Reverberi), who are old dogs in the game and have been around for a long time. They have a big foothold in the pressure washer market, so this is excellent news if you're looking for a reliable brand that you can trust for years.
Three things I love about this brand are their attention to safety, great performance year over year, and their reputation for high-quality products.
Their products also come with a standard warranty and access to great customer support. This includes an amazing online knowledge base where you can find the answers to anything you need to know about your Blue Clean product.
And when it comes to price, they cover a full range from affordable models like the AR Blue Clean AR111S, to the high end, super-powerful models like the AR Blue MAXX2200.
AR Blue Clean Quality: Reliability, Reputation & Product Warranty the Blue Clean's Pressure Washers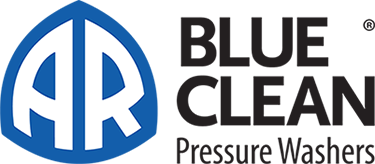 Thanks to AR Blue's unwavering reputation on the market, you can expect their products to be reliable.
They put together a cool little infographic showing their major moments and milestones over the past 60 years, which is worth checking out if you're looking to purchase a pressure washer from AR Blue Clean.
I saw some people online had to upgrade their hose connectors to brass in order for them to last longer, so that's something to consider if you prefer metal. It's a cheap & easy fix for less than $10, but as I said, I didn't experience this problem on mine.
Compared to other brands on the market, I think AR Blue Clean offers the best warranty on their range of electric pressure washers. Some other brands offer a 3-year warranty, accessories, and spare parts that are only covered for 90 days. AR Blue Clean however has a 1-year warranty and it's what they call a 'bumper-to-bumper' warranty. It means your warranty covers everything for a year.
How do the AR Blue Clean Washers Compare On Price? Priced similarly to other pressure washers
I compared AR Blue Clean to similar products on the market, and they rank similarly in price, depending on the model.
You can expect the smaller, low-end models to cost you less than $200, which is a steal for what you're getting. Comparatively, you can expect the high-end models to cost you over $300.
When I reviewed AR Blue Clean, I found that there are so many different models on the market, that you'll not only find one to suit your cleaning needs, but also your budget.
Pretty great, right?
AR Blue Clean have a wide range of pressure washers to choose from
One thing I like about their range of pressure washers is that there is something for everyone.
If you're looking for a professional-grade pressure washer, then something like the MAXX2200 is made for you. If that's not in your budget, but you're still looking for something powerful, their mid-range offering is great.
Something like the AR Blue Clean AR383 is cheaper than the MAXX2200 but still manages to pack a big punch.
Long story short… Depending on the types of jobs you're expecting to do, AR Blue Clean has a pressure washer to suit your needs.
If you're looking to simply clean your car or windows, you'll find one of the smaller, cheaper models would be perfect, like the AR142S or the AR111S. These lower-end models are perfect for simple household cleaning tasks.
On the other hand, if you're looking to tackle more intensive cleaning projects, then there are more powerful models better suited to the task: the MAXX2200 is the most powerful pressure washer that AR Blue Clean makes, and the AR Blue Clean AR2N1 comes in at a close second.
Again, it's all dependent on what you're looking to clean and how much you're willing to spend.
How powerful are AR Blue Clean pressure washers? Small units with lots of power
Regardless of the model, Blue Clean washers are known to pack a whole lot of power into each unit. You'd think that the smaller models, like the AR112S Electric Pressure Washer, would be weaker. Actually is surprisingly strong at 1,500 pounds of water pressure per square inch.
We found that even the mid-range units are powerful, like the AR240S. This unit produces 30 times more power than a garden hose.
How energy efficient are AR Blue Clean pressure washers? They conserve water compared to hoses
The AR Blue Clean models are water efficient. Some of the models, like the AR240S, use 80 percent less water per minute than a garden hose. Also, compared to other pressure washer brands they conserve more water on average.
So, in addition to saving time, you won't have to worry about your water bill (or droughts) either.
---
A breakdown of the best AR Blue Clean pressure washers compared against one another
Quick review of the AR Blue MAXX2200 Electric Pressure Washer (Most Powerful)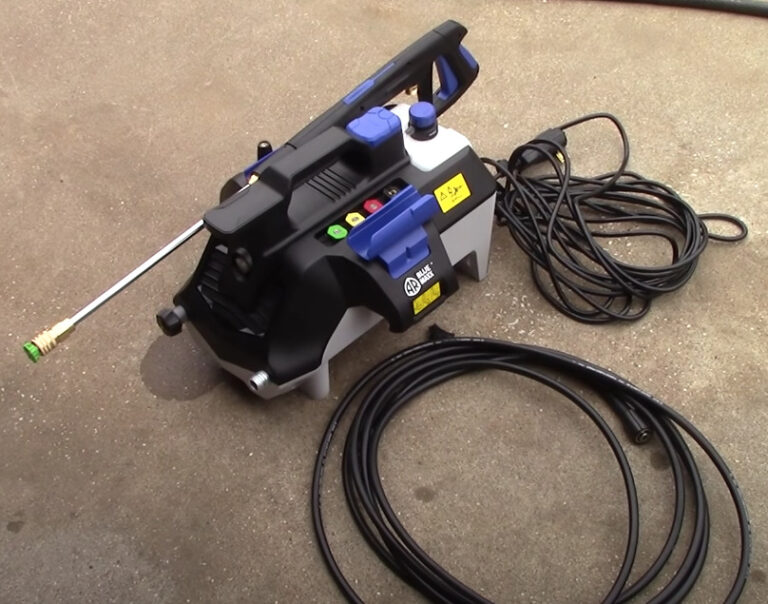 The MAXX2200 is AR Blue's best and most powerful unit. Running at 2200 PSI, you could tackle pretty much any cleaning project. This one is especially great for outdoor projects, like a seriously dirty backyard, or particularly grimy areas.
Due to its size, it does come with a cart, making it easier to use. You can also remove it from the cart and it doubles up as a portable unit.
If you're looking for a professional-grade pressure washer, we highly recommend the AR Blue MAX2200. It is the priciest model, but it's well worth the investment.
Quick AR Blue Clean AR2N1 pressure washer review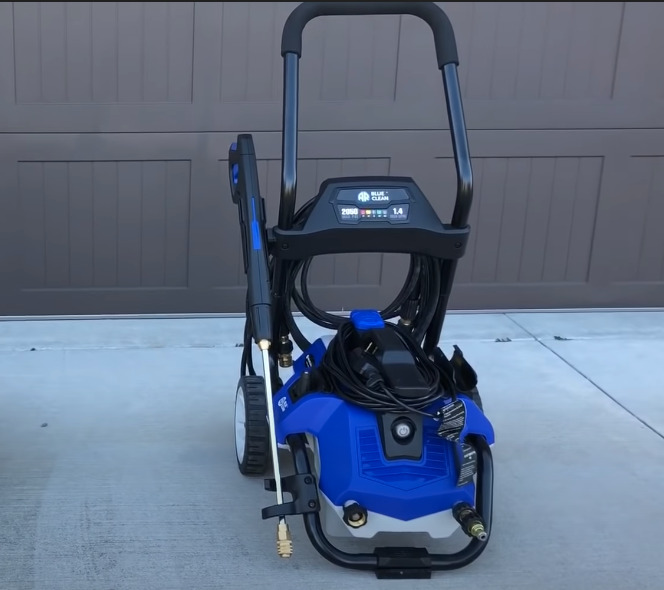 The AR2N1 is the second most powerful model, with 2050 PSI. One thing I love about this model is that it's a 2 in 1 machine. What does that mean? You can use it in the cart, making it easy to move around. Or, you can remove it from the cart and carry it with you as you clean.
This model is also great for really dirty areas and general household cleaning jobs, like patios or driveways and even the walls of your house.
Even with its powerful capabilities, it's still lightweight and compact.
It's not as pricey as the MAXX2200 and is a bit easier to carry around while still giving you pretty decent pressure, so I give it a thumbs up. Check pricing and availability here.
Quick AR Blue Clean AR383 Electric pressure washer review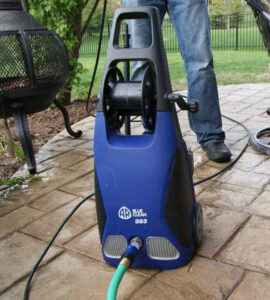 Next, we looked at one of the mid-range units, the AR383. This is the 1900 PSI power washer and is slightly cheaper than the other more powerful units.
You still get enough power to clean those particularly grimy areas and the more standard cleaning tasks.
All round, this is also another versatile and fairly powerful machine for household use, but you definitely want something beefier if you need to clean a giant slab of concrete, or something.
AR Blue Clean AR240S Electric Pressure Washer
I also looked at the AR240S model, which has 1700PSI.
It's not as powerful as some of the other units, but it's great for most standard household cleaning jobs.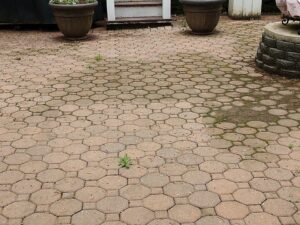 Great power for the price point, making it a great and affordable option.
Spoiler alert: I ended up picking this as a top dollar value.
I've included a before/after shot that I found on Amazon attached to someone's positive review. As you can see the AR 240S does a pretty solid job.
If you're looking for a more affordable pressure washer to clean and maintain areas like your patio, the walls of your home, or your driveway, then this is the perfect model for you. Check pricing & availability here.
AR Blue Clean AR111S Electric Pressure Washer
This model, despite being AR Blue Clean's most affordable option, pumps out 1,600 PSI. Like all their units, it's perfectly suited for most household cleaning jobs, like washing a car or cleaning a patio.
It's a fairly simple model, so it doesn't come with all the bells and whistles, but it definitely does the job if you're tight on budget! If you can stretch your money a bit further, I think you'll be happier with your machine. It's not to say the Blue Clean AR111S is a bad pressure washer, but just that I think there are a lot better options on the market in the same price range… even when only looking at the AR Blue Clean lineup.

AR Blue Clean AR142S Electric Pressure Washer
The AR142S has the least power, with 1500 PSI. It also happens to be one of the most affordable units. Despite it having the least power, it still packs far more punch than a garden hose.
It's lightweight, weighing about 15 pounds, so I found this is great for on-the-go cleaning jobs around the house. Check pricing & availability here.
So who wins in the battle of the best AR Blue Clean pressure washers? In the end, I'd put my money in the mid-range for home use.
If you're looking for the greatest bang for your buck, I would go for AR240S or AR383. You're getting the power of 1700 and 1900 PSI respectively, at a far more affordable price. You'll be able to tackle almost any household cleaning task, without breaking the bank.
Did I miss a model you're looking at? Have you had experiences with any of the above models – good or bad? I want to hear! Lemme know in the comments, and I'll do my best to respond quickly.