So you're interested in buying a hot water pressure washer? Great, your next questions are, what's on the market, what makes a good hot water pressure washer, why you might need one, etc.
In this post, I outline the best hot water pressure washers currently on the market (as of 2022), and I've included a few frequently asked questions to help you make your decision (scroll to the bottom if you're looking for those).
So without further ado… Here are our list of the four best hot water pressure washers plus a bonus video on what not to do.
An overview of the best hot water pressure washers
---
A detailed breakdown of the best hot water pressure washers
Shark SGP 353037 hot water pressure washer
If you're looking for an absolute workhorse, look no further than the Shark SGP 353037 Diesel pressure washer.
Definitely, on the larger scale, this 530 lb pressure washer will be the only tool you need in your arsenal to clean up any – and I mean any – grimy, greasy stains & surfaces.
The SGP 353037 comes mounted on 4 pneumatic wheels and a super solid steel frame, to wheel it around.
It can heat water to 140℉ and has a 6-gallon onboard diesel tank; this is a hardcore pressure washer.
The Shark brand is owned by Karcher, so you already know that you're investing in a reputable machine, and it comes with a 7-year warranty on the pump.
The Shark SGP 353037 has a flow rate of 3.5 GPM, 3000 PSI, and comes with a stainless steel coil wrap to heat up quickly.
The water is heated on demand, and therefore there is no hot water tank which means that the chances of accidentally burning yourself are limited.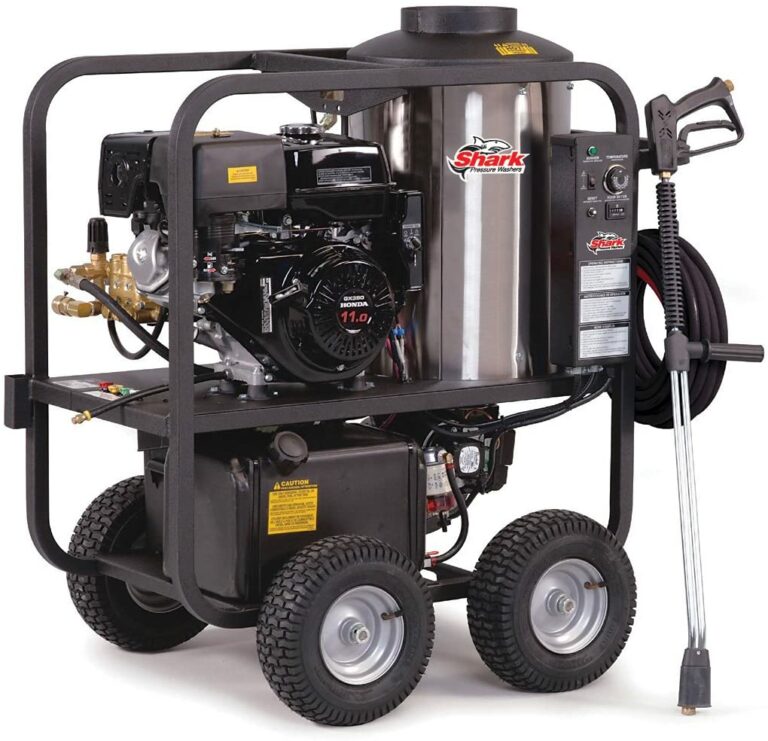 Pros:
Easy maneuvering on rough terrain
Leak-free schedule 80 heating coil
Direct drive pump rated at 3.5 GPM and 3000 PSI
11 horse power Honda Engine for fast, reliable starts
Cons:
This is a large pressure washer, making it difficult to transport without a large vehicle
---
Simpson's 1500 PSI hot water pressure washer (The Simpson MB 1518)
The Simpson MB1518 is aimed at satisfying those looking for a hot water pressure washer at a reasonable price and that comes packed with features.
This machine is perfect for home and yard use because it only has 1500 PSI. This means that it will certainly be able to clean up any and all grimy areas around your home, but I wouldn't use it for more hardcore cleaning jobs like washing smoke-stained buildings in the city.
Unlike other hot water pressure washers, this model is electrically powered and comes with a 35 ft long cord. Gone are the days of having to unplug the pressure washer every time you move to a different spot. Even better, it comes with a 50ft long industrial braided hose for a total range of 85ft.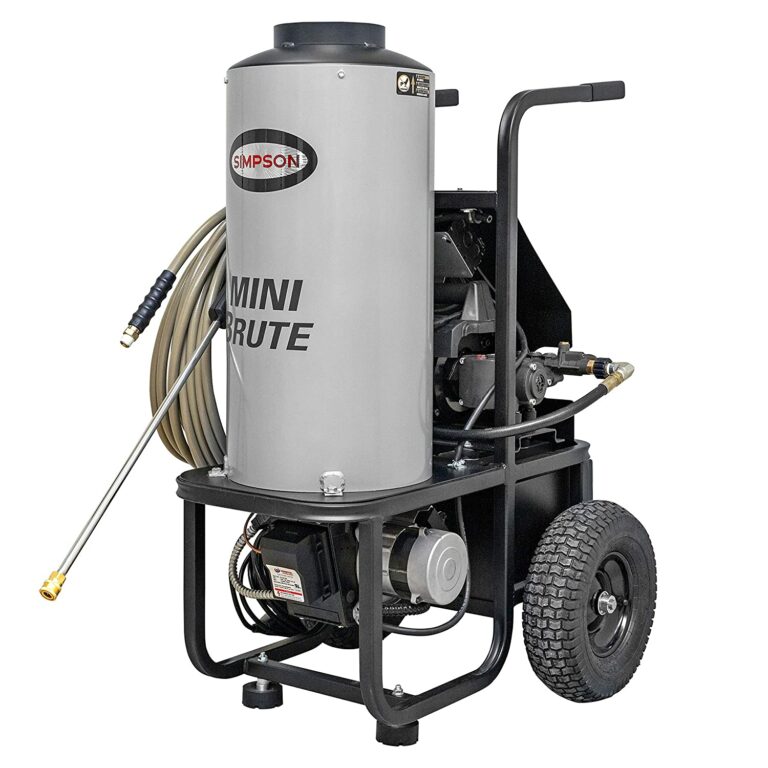 Pros:
Comes with 4 quick connect nozzles
50 ft hose and 35 ft electrical cord
120-volt induction motor
Equipped with an Automatic Total Stop system that will prevent the pump from overheating
Cons:
At only 1500 PSI, it's not the most powerful on our list
Only heats water to 100℉ – this might not be hot enough for extremely greasy spots, but it will get simple jobs done
---
North Star's Hot Water Pressure Washer Module
The North Star Hot Water Pressure Washer is a 4000 PSI module is used to convert any 2–4 GPM cold water pressure washer into a hot water pressure washer.
Although this is not a full pressure washer system, it can be used to upgrade your current unit to a hot water system if you find that your existing set-up is not quite cutting it.
I know the frustration of not being able to properly clean a stubborn spot on the garage floor, and since testing this addition with my regular power washer, I've noticed that the hot water cuts through grease and grime like a hot knife through butter.
The unit comes mounted on its own frame and has two wheels as you'll need to be able to move this around along with your pressure washer. It's made of high-quality steel so you can rest assured that the module won't buckle under the weight of the boiler over time.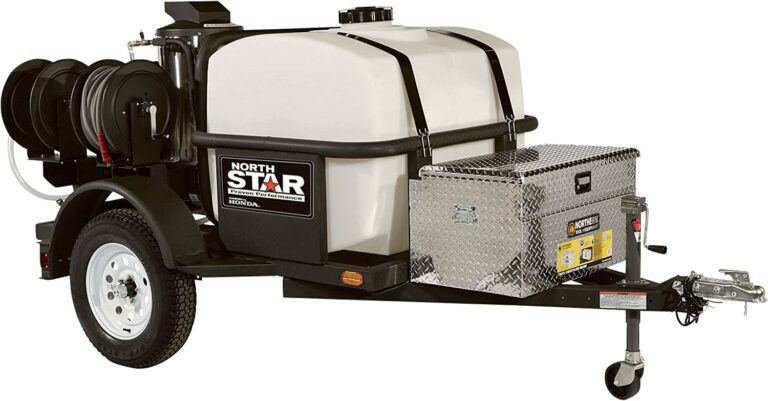 Pros:
Comes with a 4-gallon diesel tank
Includes a 50 ft long hose
Heats water up to 250℉
Compatible with any pressure washer that has 2 – 4 GPM
Cons:
Not a complete pressure washing system
When moving around the area you're cleaning, you need to move both the pressure washer you're using and the hot water attachment
---
AR Hot Water Pressure Washer with Total Stop System (AR630TSS-HOT)
The Annovi Reverberi AR630TSS-HOT model is the perfect hot water pressure washer for those who are on a tight budget. AR has managed to create a system that allows you to get the best of both worlds when it comes to water temperature.
It does not have a built-in water heating system like the other models do, but it does allow you to use water that has been pre-heated without being too concerned about melting parts of the washer. The system can take up to 180℉, which is enough to get rid of most stains around the house.
The AR630TSS-HOT (that's the model number) comes with a 1900 PSI and a 2.1 GPM motor, which should tackle any domestic task, without running the risk of overworking your machine.
It comes with a triplex pump so you can add various cleaning solutions to make sure that the stain you're tackling will be removed with ease. It also comes with a 25 ft (7.6 meter) hose, making it easy to get those hard-to-reach areas.
Pros:
Can be used with both hot and cold water temperatures
Has a decent CP of 3990 for its compact size
The triplex pump is protected thanks to the Total Stop System.
Can take temperatures of up to 180℉
Cons:
Water needs to be preheated as the machine does not have a heating system
---
What You Shouldn't Have To Do When Getting a Hot Water Pressure Washer
Hot water pressure washers can often be hit or miss, and the most popular washers typically aren't as good as the manufacturers claim they are.
Instead of taking our word for it, let Andrew show you how he had to modify the Magnum 4000 Pressure Washer before being able to use it.
Frequently Asked Questions about Hot Water Pressure Washers
Can I run hot water through my regular pressure washer?
When reading reviews online, some people have had no trouble when running hot water through their regular power washer but the general consensus seems to be that it's not a good idea.
When in doubt, you can check your pressure washer's manual for a maximum temperature rating (most that I've checked have one written, though I don't know if it's required by law), but again, my advice would be to buy one of North Star's hot water upgrade modules rather than risk bricking your power washer.
How does a hot water pressure washer work?
Besides the commonly known hygienic properties of using hot water to clean surfaces, hot water pressure washers also make use of agitation (or impact) and detergent.
The combination of these 3 factors allows for a perfect balance to tackle those hard-to-remove stains.
Which is better, hot or cold water pressure washers?
Both pressure washer variants offer unique benefits, with the most notable being that hot water pressure washers are mostly used by industry professionals.
This is because of their complex design and engineering components that may be out of the average Joe's budget.
Those who use hot water pressure washers for domestic reasons, mostly do so because of the added steam benefit that will easily lift and remove stains without having to exert much physical effort.
Why shouldn't you upgrade to a hot water pressure washer?
If you're unsure whether you need a hot water pressure washer, I've included some ideas of when it's not a good idea:
It provides a quick and efficient way to clean a surface without leaving behind excessive amounts of dampness. This is a common benefit of using hot water to clean.
It cuts through the grease, and grime of stains quickly while using minimum amounts of cleaning agents.
There is a lesser need for agitation beforehand (like sponging down or brushing an area).
If you find you don't need the hot water aspect, checkout my review of the best medium grade pressure washers, which are all cold water power washers and which are great for home use.