Edit: Wow this page has exploded in search engines. We've come back and updated this page with the latest information in 2022.
Medium duty pressure washers are super versatile and a great option if you're looking for a general purpose pressure washer. Whether you're a college student looking to make some extra money cleaning your neighbors' driveways, or a homeowner trying to spruce up your back deck, a medium duty pressure washer is a great investment and can be used for a ton of different projects.
Medium duty pressure washers range from 1700-2800 PSI and will cost between $120 and $350 for most models. They can be either gas powered or electric. Take a look at our breakdown of the best medium duty pressure washers to help you decide which is the best option for you.
What are medium duty pressure washers used for?
The main reason someone would buy a light duty pressure washer over a mid-duty or heavy duty pressure washer, is to save money. I'm here to tell you that's the wrong mentality to approach this purchase with.
When you're making purchases like a pressure washer, you're investing not only in a product, but in your life while working with that product over the next three to five years. An entry level/light duty power washer might last you a year or two – hunched over, lugging that thing in and out of your truck, breaking down, not having enough pressure – whereas a mid-tier pressure washer is going to last 3, 4 maybe 5 years.
You or one of your workers will work twice as fast, able to do more jobs, bigger jobs, with twice the power, wheeling around instead of picking up and putting down/dropping, and will last twice as long? It's an easy decision.
But wait, there's more! – I have a little challenge for those who are still considering getting an entry level rpessure washer. I challenge you to instead, pay the extra $100–$200 dollars, and make up the difference by washing a couple friends' driveways for $100 each. You'll pay off the extra cash in a weekend and have a much better product for the next 5 years because of it. (P.S. If this type of thing interests you, be sure to sign up for our Pressure Washing Marketing Secrets.
People buy a medium duty power washer for jobs like…
Any of the jobs you would expect from a light duty pressure washer, plus…
Your oil-stained garage floor, that never seems to come clean
Front driveways which have been stained by grass or leaves
Back patios after years of being scorched by the Sun
Power Washers Solve Dirty Surfaces You'd Forgot You Even Had!
One of the most common things that people tell me in emails is how much room there was in their lives for pressure washing. While most people buy their pressure washer for a specific job like cleaning their driveway, soon they're cleaning their shed, their patio, their patio furniture, their car, their car engine, their carpets, their fence, their house, their paneling, their barbecue, and on and on the list goes!
A lot of people limp into the market with an entry level pressure washer, but by the time it burns out, they decide to spend the extra bit for the payoff in what the pressure washer can do for them. A mid-grade pressure washer will do all that, plus be able to get the job done when it comes to really needing to dig in and clean something top to bottom.

source: drepamig
What are the problems with a mid-grade pressure washer?
Obviously when you're buying an entry level washer, you face the same downsides. If you're running a pressure washing business, or have a lot of concrete that you're going to be washing every year, you'll probably want to have something heavy duty, plus a couple medium level machines, as well.
While they are the most widely used, medium duty pressure washers still aren't the best for every job.
They're powerful enough that they can damaging items, and in some cases, they're not quite strong enough for those extra large jobs. If you're a homeowner needing to clean his driveway, house, and fence every year – the medium grade washers are a great option. Here are a couple of issues that you should consider when deciding if a medium duty pressure washer is right for you:
They can damage more delicate items, such as outdoor furniture, antique machinery, etc.

They aren't as effective for heavy messes involving oil or other hard to clean liquids

They're pretty bulky and take up a lot of space. If you're looking for something light and portable, a light duty washer might be better for you
What Jobs Are Medium Duty Power Washers Perfect For?
Most people own a medium duty pressure washer because of the value they bring for the money. Most people don't need a gigantic pressure washer that you haul around like a wheelbarrow full of sand. While they're not ideal for intense cleaning jobs (like heavy duty machinery or large areas needing extremely high power) they're good for almost any residential pressure washing needs.
People buy medium duty pressure washers for projects like:
Cleaning your driveway

Reviving old mildewy wood (patio, chairs, fences)

Removing dirt and stains from siding

Cleaning your garage or other flooring
What are the best mid-level pressure washers?
The Generac 6922 Is A Great Medium Duty Pressure Washer
Quick Stats
2,800 PSI
2.4 GPM
Weighs only 57 lbs (25.9kg)
The Generac 6922 is a well-built gasoline powered pressure washer. Opening up the box, you'll find some motor oil, the spray gun and metal wand, a hose, and the operator's manual. The engine is 196cc's and holds about 3 quarts of gas. It comes with 4 quick "snap change" nozzles. You'll want to use the 40 degree nozzle for washing your car, and soft surfaces like wood. The green works fine for other surfaces. Some people find the engine hard to turn over if it's cold, and once it's running, it's kinda loud. Not super loud, but not very subtle either. Still, it's a 
great
machine for the price. If you're looking to clean your driveway, siding, and fence, etc. definitely consider the Generac 6922. This is a 
great
pressure washer for the typical household.
Price check on Amazon.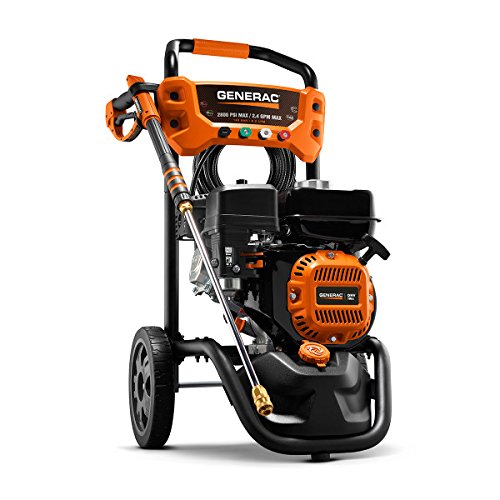 A gas powered pressure washer, great for washing your car, cleaning your driveway, and your siding. Get the best price
on Amazon
.
The Sun Joe SPX3001 Is An Extremely Good Medium Duty Power Washer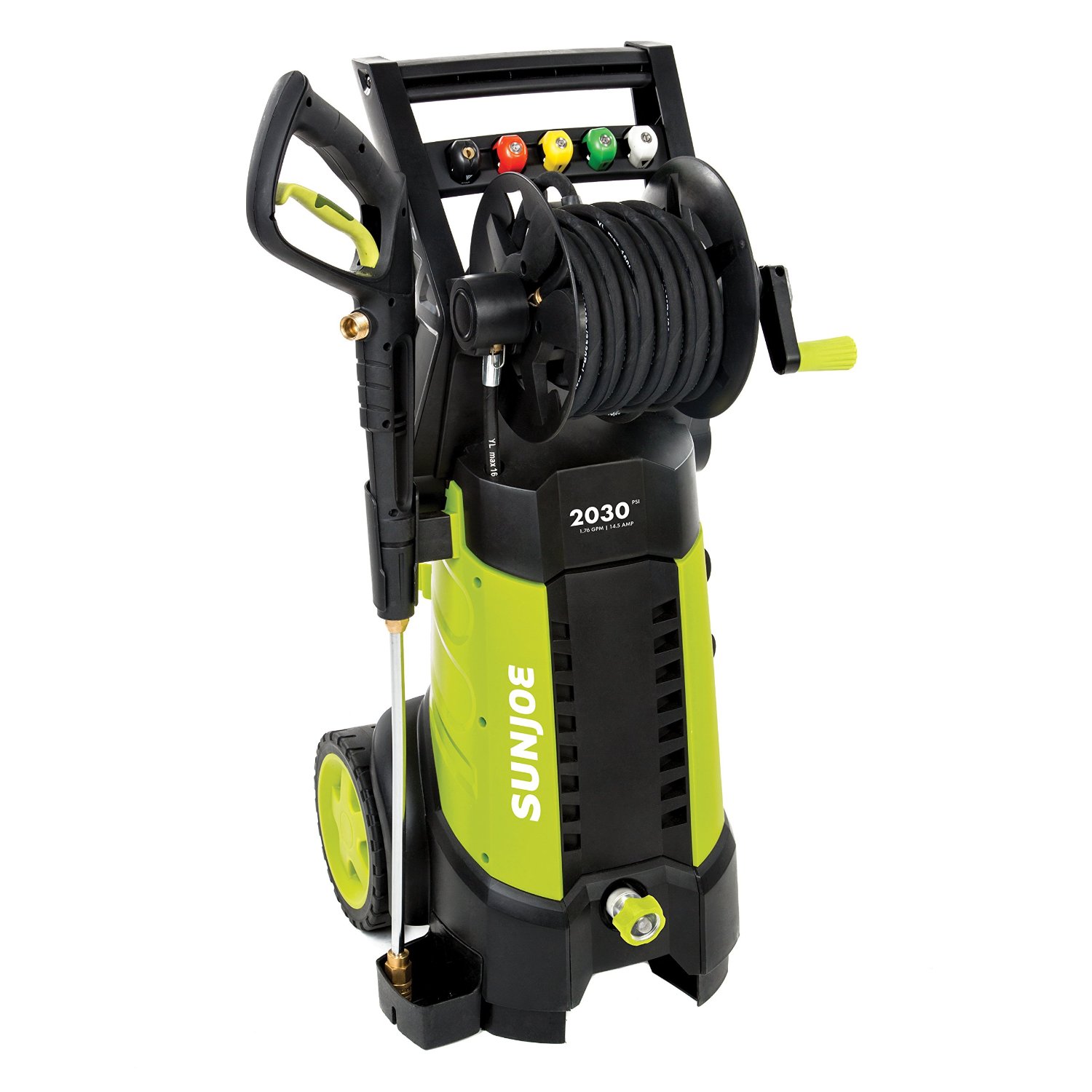 Top quality mid-range pressure washer. Get the best price from Amazon.
Quick Stats
2,030 PSI
1.76 GPM
Weighs only 32 lbs (14.5kg)
Sun Joe's SPX3001 is one of the bestsellers in the medium powered pressure washer category, and for good reason. Amazon has over 1,000+ reviews, and since so few people actually leave reviews, you know this is a top seller. There aren't any giant, 
glaring
issues with this pressure washer, but the handle/crank is a little flimsy after a couple years of hard use, the wheels are a little stiff, and I occasionally get an air bubble in the line. Usually I can just de-press and press the trigger again to fix it. This is an awesome little power washer and I have no problem recommending it to anyone who's just getting started, and wants a high quality pressure washer for a good price to keep their driveway clean, or a one-story buildings.
Price check on Amazon.
The Sun Joe SPX3000 is the best selling Medium Duty Pressure Washer on the market
Quick Stats
2,030 PSI
1.76 GPM
Weighs only 31 lbs (14 kg)
Having used other electric pressure washers, I can say this one stands out as one of the best due to the water pressure it's able to kick out. Amazon has over 3,600+ five-star reviews which should say a lot. This is a durable machine with readily available replacement parts, which are similar in quality to most gas-powered power washers. It's not exactly quiet, and after a while sounds downright
LOUD
, but the pressure and volume of water it puts out are what matters to me. Easily cleaned up my 15×15 ft driveway in about 40 minutes, which is pretty quick, all things considered. There's a longer 25 foot hose available which I'd recommend. The longer the hose the better. My only complaint is that there are no swivels on the hose-to-wand, or hose-to-machine. It's not a huge deal but it would've been nice to be able to swivel/move around without caring about how tangled the hose would get.
Price check on Amazon.
The Karcher K2000 is a great medium duty pressure washer, but an underdog in the business!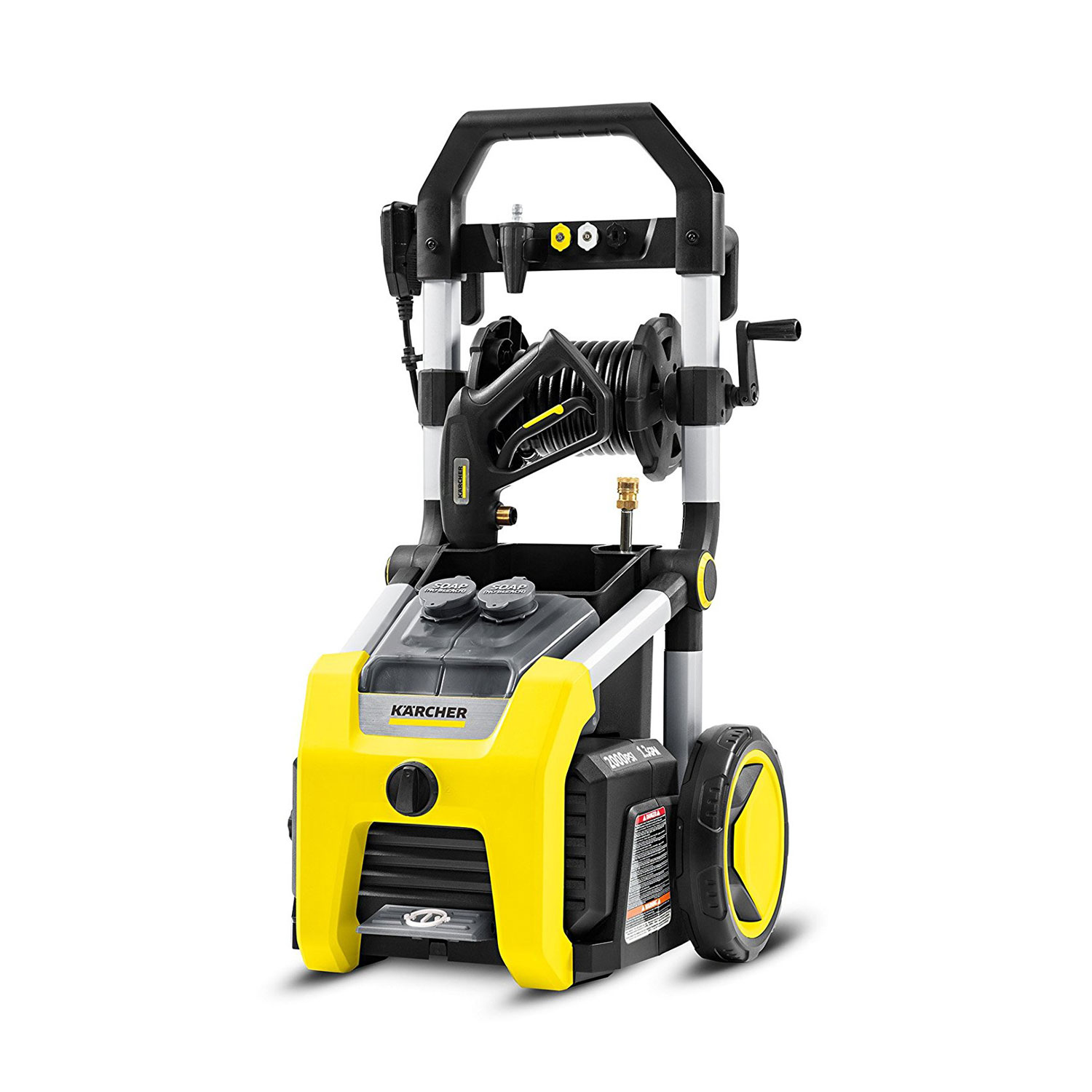 The holy grail of light duty pressure washers. All the benefits of other entry level machines, but with the added bonus of wheels. Get the best price from
Amazon
.
Quick Stats
2,000 PSI
1.3 GPM
Weighs only 32 lbs (14.5kg)
The Karcher K2000 is a solid mid level pressure washer, that's designed in a way that makes it hard to tip over. The gun must be unclipped from the hose when not in use. The side-mounted hose is a great design feature. Some people prefer the hose comes out the front, but I liked it – my only gripe with the hose connector is the fact that there's some plastic pieces. For a part as important as the garden hose connector, I wish that were all-metal. This pressure washer is engineered really well and it feels well made, and tough.
Price check on Amazon.
The Briggs & Stratton 20545 is a great 4-stroke gas powered pressure washer
Quick Stats
2,200 PSI
1.9 GPM
Weighs only 50 lbs (22.6 kg)
The Briggs & Stratton 20545 is a 4-stroke gas powered pressure washer with some serious kick to it. I only ever got about 2,000 PSI out of the Briggs & Stratton 20545 but a lot/most pressure washers can't hit their listed PSI, so that didn't bother me too much. It comes with an eight foot hose, which could be longer, but isn't too short. There's a special nozzle for stripping paint off concrete which worked like a charm on a small spot of spilled latex which had dried on the concrete behind my house. I've heard others complain that they had a hose blow out, or the machine wouldn't start up but the machine I received worked as expected, fired up easily and did a great job at cleaning the concrete.
Price check on Amazon.
Sun Joe SPX3000
The best selling medium duty pressure washer on the market, for two years and running.